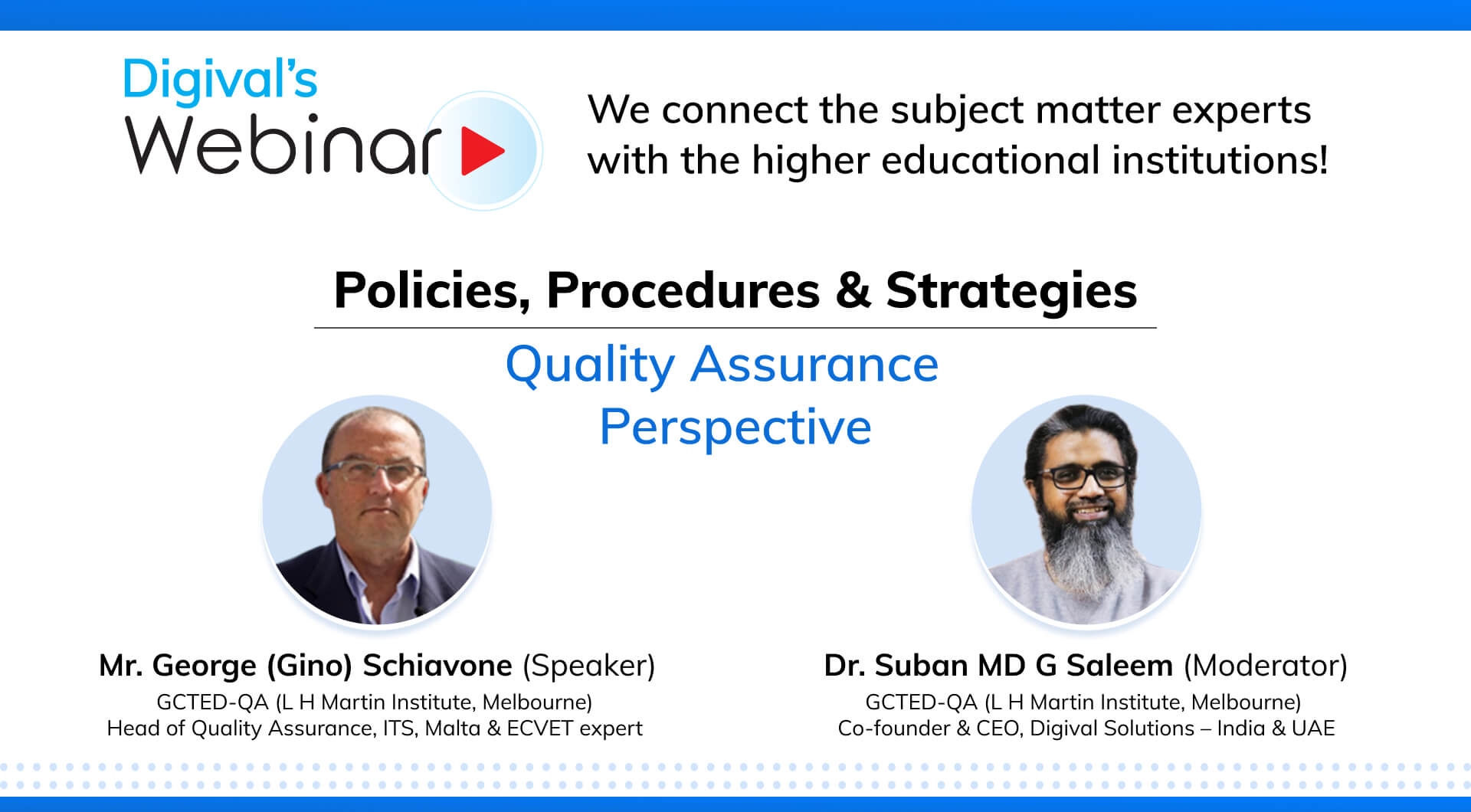 Policies, Procedures & Strategies - Quality Assurance Perspective
Mar 17, 2021
07:15 PM (Saudi Arabia)
online
Link will be shared on your mail
Free
Event Details
About the Event:
We connect the subject matter experts with the higher educational institutions!
In the midst of a pandemic, we can't deny, our desire for social interactions. Many organizations are engaging in delivering webinars and other virtual events all over the globe. Digival's training team did an extensive research on those events to identify gaps; which helped our team to focus on basics and intermediate level of webinar on the vast area of quality assurance and higher education strategy. Digival's webinar is deigned to discuss more on the application of principles in QA and also our trainers will provide tools, hands on experience and continuous support to the participants. Digival sponsors the webinars as part of corporate social responsibility towards higher educational institutions to connect with authenticated and well experienced practicing experts in Quality Assurance and Higher Education. Unlike the other organizations, we encourage the participants to directly contact with the experts and trainers of Digival to organize the workshops and seminars in their institutions Digival's training intends to bring communities to closer network, share experiences, collaborate and have informal discussions about whatever excites them.With the power of the right network and building relationship with quality people, all of us can achieve the ability of lifelong learning
Learning Outcomes:
After the event, the participants will be able to:
Policies, Procedures and strategies – Quality Assurance Perspective
The participants will be able to;
• Define policy, procedures, and strategies.
• Describe the characteristic features of policy, procedures, and strategies.
• Apply the principles of policy, procedures and strategies in the concept of elearning
• Audit the mission and planning as per the standard and criteria consistent with the national qualification framework
About Speaker:
Mr. George (Gino) Schiavone
Head of Quality Assurance, Institute of Tourism Studies, Malta & ECVET National expert
Gino is an experienced Quality Assurance and Higher Education strategist; has profound experience in European Qualification Frameworks and in the implementation of Bologna process. He plays a leadership role and continues to manage the quality assurance at the Institute of Tourism Studies, Malta. His area of interest is Policy and Standards, Program Design, Internationalization, Institutional Audit, Student centered learning and teaching.
Who should attend?
• Rector
• Dean
• Vice Dean
• Academic Directors
• Quality Assurance Managers & Directors
• Quality Assurance Committee Members
• Medical Educationists
• Higher Education Strategists
• Chairman of the Departments
• Academicians passionate to become a managers and administrators
• Fellows and Graduate studies students in higher education administration and management